Mixin Network Monthly Report — No. 41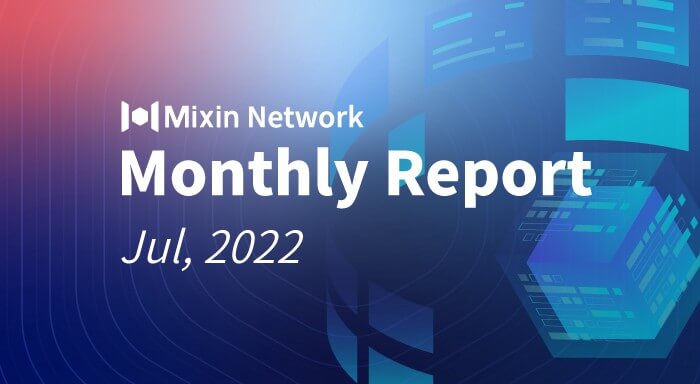 2022-07-01 ~ 2022-07-31
Mixin Mainnet
The Mainnet has been running for 1250 days, and the topology height is 386,174,139 (+12,883,254)
The top 100 assets of the entire network reach a total market value of $1,164,454,998
There are a total of 2,407(+22) asset types in the entire network
There are 26 full nodes in the network
Statistics of Popular Assets
| Assets | Total Volume(fluctuating) | Number of Monthly Transaction |
| --- | --- | --- |
| BTC | 13,343(+864) | 809,235 |
| BOX | 72,615,594(+1,397,290) | 477,173 |
| ETH | 78,455(+4,576) | 538,573 |
| MOB | 36,544,965(+304,431) | 159,589 |
| USDC | 35,402,693(-1,314,313) | 19,625 |
| ERC20 USDT | 34,900,662(+2,801,146) | 2,778,909 |
| pUSD | 21,173,529(+837,701) | 1,605,552 |
| EOS | 9,222,344(-97,045) | 201,445 |
| SOL | 272,767(+25,996) | 28,588 |
| UNI | 921,174(+9,585) | 69,417 |
| RUM | 3,835,659 | 10,569 |
| DOGE | 66,509,432(+4,770,936) | 41,914 |
The above data was collected around 21:00 (UTC+4) on August 01, 2022
Mixin Dapps
Mixin Messenger
Switching the default deposit address of Bitcoin to SegWit address
Support Japanese version
Support the function of notification window automatic floating by clicking when Bot is in use
iOS version support searching Bot with system Spotlight
Optimization of homepage loading and searching match
Development of independent information bots
Pando Catkin launched: https://catkin.pando.im/
Toushi View has entered the closed beta stage and will be launched soon
BOX lending and dismantling automation services are under development
Exin
Transak and Banxa fiat deposits support
Regular investment function optimization, and USDC regular investment newly supported
MixPay
WordPress plugin support
Twitter and Instagram retweet sweepstakes and contests holding
Optimization of the user payment experience for on-chain payment
Trident's main API documentation has been updated: https://docs.thetrident.one/api/intro/
Adding site-wide activity page
Activities on the collection page can be filtered by type
Adjustment of NFT hidden logic
Supporting MetaMask login
Others
07–03–2022 Mi Circle of Cedric Fung carried out the activity of lottery draw of 1 BTC, which was drawn according to the random number of Bitcoin with basic requirements of clicking likes and being in the circle during the whole event period.
07–06–2022 By analysis of the mainnet UTXO, there are about 100,000 users holding XIN accounts, and users with 0.015 XIN airdrops have been excluded.
07–09–2022 The MVM faucet has been online: https://catkin.pando.im/, and MetaMask users can log in and claim for it.
07–15–2022 Mixin global ambassador conducted an AMA event in Sinso Network's Telegram community.
07–19–2022 Mixin partners with TapX and joined its ecosystem: https://tapx.link/mixin/
07–30–2022 The Mixin team's first offline meetup in Kuala Lumpur Malaysia was held at the HWG Investment Bank.
About Mixin Network
Mixin Network is an open-source, lightning-fast, and decentralized Web3 platform to bring speed and scalability to the blockchain. Mixin allows blockchains to gain trillions of TPS, sub-second final confirmation, zero transaction fee, enhanced privacy, and unlimited extensibility.
Mixin Network is a PoS network with 26 full nodes. As a layer-2 solution, it has supported 41 public blockchains including Bitcoin, Ethereum, Monero, Polkadot, etc. The total assets on the network have been over 2 billion US Dollars. Mixin is also a full-featured financial platform with functions of AMM, aggregating trade, pending orders on Exchange platforms, unbiased stable currency, etc. Mixin Network is dedicated to providing users with a decentralized blockchain infrastructure that always puts security, privacy, and decentralization first.
Follow us:
Official Website:https://mixin.oneopen in new window
Twitter: https://twitter.com/Mixin_Networkopen in new window
Facebook: https://www.facebook.com/MixinNetworkopen in new window